2016 Medicare Annual Enrollment Period (AEP) is running this year from October 15th through December 7th, and provides the best opportunity for switching or dropping Medicare plans. Here is some information about 2016 plans.
2016 Medicare Annual Enrollment: Medicare, Medicare Advantage and PDP plans
Social Security Administration announced that Social Security recipients would receive no cost-of-living increase in their benefits for 2016. The roughly 70% of beneficiaries protected under the hold harmless provision will see no increase in their Medicare Part B premium, which will remain at $104.90.
But for the rest 30% of beneficiaries whose Part B premiums stand to rise by as much 52% for next year. This group includes new beneficiaries, high-income beneficiaries already subject to higher Part B premiums, and Medicare recipients who have not yet begun to collect Social Security. These beneficiaries are not protected under the so-called

hold harmless provision of federal law

that limits the dollar increase in the Part B premium to the dollar increase in an individual's Social Security benefit.
The average Medicare Advantage monthly premium will decline $0.31 in 2016 to to $32.60.
Average monthly premium for PDP plan that included basic and so-called "enhanced plans, that may offer more comprehensive coverage, will rise to a projected $41.34 per month.  The average monthly premium for basic PDP plans remain stable at $32.50 per month.
2016 PDP plans have a new standard $360 Part D deductible ($320 in 2015). In 2016, once the total costs of prescriptions paid by you and your plan have reached $3,310 ($2,960 in 2015), you will pay ALL drug costs until you've spent $4,850 out-of-pocket ($4,700 in 2015).
Liberty Medicare and 2016 Medicare Annual Enrollment
Liberty Medicare will help you select and enroll in one or several Medicare Plans that are BEST FOR YOU: Medicare Supplement (Medigap), Medicare Advantage and Medicare Prescription Drug Plans. We only represent well-established and nationally known insurance companies doing business in the Mid-Atlantic States (Pennsylvania, New Jersey, Delaware and Maryland) as well as in two Mid-West states (Illinois and Ohio).
Liberty Medicare has been selected for the 2015 Best of Wynnewood Insurance Award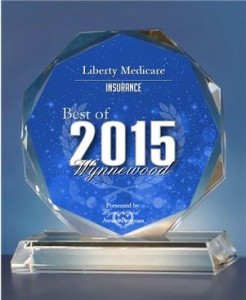 Recently Liberty Medicare has been selected for the 2015 Best of Wynnewood Award in the Insurance category by the Wynnewood Award Program.
Each year, the Wynnewood Award Program identifies companies that we believe have achieved exceptional marketing success in their local community and business category. These are local companies that enhance the positive image of small business through service to their customers and our community. These exceptional companies help make the Wynnewood area a great place to live, work and play.
Various sources of information were gathered and analyzed to choose the winners in each category. The 2015 Wynnewood Award Program focuses on quality, not quantity. Winners are determined based on the information gathered both internally by the Wynnewood Award Program and data provided by third parties.
For more details, please read the press release.
Please give us your feedback!
What do you think about 2016 Medicare Annual Enrollment Period (AEP) is ready to begin? Write your comments.
Contact Us
For help finding the best Medicare or Individual Health Plan for you, please contact Liberty Medicare or call us at 877-657-7477.