Medicare Eligibility Requirements: Are you Eligible for Medicare?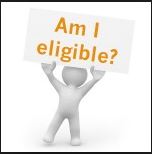 Here are Medicare Eligibility requirements. You are eligible for Medicare if:
You are 65 years or older, and you are a citizen or permanent resident of the United States who has lived within the US for at least 5 years.
You are not yet 65 and have a disability, End-Stage Renal disease (permanent kidney failure requiring dialysis or transplant), or Lou Gehrig's disease. You are entitled to Medicare after you have received disability benefits from Social Security for 24 months.
Your age is the primary determining factor. You do NOT need to retire or receive Social Security benefits to be eligible for Medicare.
Medicare Eligibility Requirements: Part A and Part B
The same as Medicare Eligibility
Medicare Advantage Eligibility
Medicare Eligibility Requirements: Part D
Medicare Supplement (Medigap) Eligibility
Insurance companies generally are not allowed to sell you a Medicare Supplement policy if you already have Medicaid or a Medicare Advantage Plan
A Medigap plan covers ONE person only
You may not have more than ONE Medigap plan
US Government Sources
Are you eligible for Medicare? Get Help from Liberty Medicare.
We'll answer on all your Medicare Eligibility questions.
Our services are offered at no cost to you. If you are considering a Medicare Supplement, Medicare Advantage or Prescription Drug Plan, let us help you at no charge.
Contact us with your Medicare Questions, or give us a call at 877-657-7477, and you will be connected to a licensed agent/broker.