Medicare Part D: Prescription Drug Plan Benefits & Costs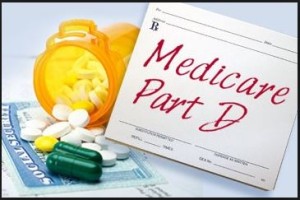 There are two types of Medicare Prescription Drug Plans (Medicare Part D Plans). If you have Original Medicare (or PFFS / MSA types of Medicare Advantage Plan), you have the option to use a stand-alone Medicare Prescription Drug Plan (PDP). Part D plans are run by private companies approved by Medicare.
Alternatively, if you are enrolled in other types of the Medicare Advantage Plan, you may use Medicare Advantage Prescription Drug Plan (MAPD) with a Prescription Drug Plan as a part of Medicare Advantage.
Who is eligible for Medicare Part D?
You are eligible for the Medicare Prescription Drug Plan if you are enrolled in Part A and/or Part B.
Medicare Prescription Drug Plans Benefits
Medicare Prescription Drug Plans cover most types of prescription drugs (both generic and brand-names) with a few exceptions.
Part D Plans add drug coverage to Original Medicare, HMO and PPO Plans, some Medicare Cost Plans, some Medicare Private Fee-for-Service (PFFS) Plans, and Medicare Medical Savings Account (MSA) Plans.
Unlike Original Medicare, Medicare Prescription Drug Plan coverage is not standardized. All plans must provide at least a standard level of coverage set by Medicare, but each plan can vary in cost such as the premium, deductible, copayment, and drugs covered (known as a formulary). Each plan includes different variations as to which drugs they cover, at what level (tier), and whether they cover some prescriptions at all.
How much Medicare Part D Plans Cost?
Each Part D plan can vary in cost and cover different types of prescriptions. The cost includes:
Monthly premium
Yearly deductible
Copayment / coinsurance
Most Medicare drug plans have a coverage gap (sometimes called a donut hole). This means that you will need to pay out-of-pocket for most of the additional drug costs when the plan limit is exceeded. Above this limit, there is something called catastrophic coverage. This is when you need to pay only a small coinsurance/copayment for the rest of the calendar year.
Additional Medicare Prescription Drug Plan Resources
Enrolling in Medicare Part D Prescription Drug Plan
Stages of Medicare Prescription Drug Plans
Questions to Ask when Choosing a Prescription Drug Plan
Useful Tips for Choosing a Prescription Drug Plan
Let Liberty Medicare Help you Choose
Liberty Medicare is here to help you every step of the way while selecting and enrolling you in the best and most suitable Medicare Prescription Drug Plan for you. All of our services are entirely free to you!
We'll help you:
Find Part D plans in your area
Develop solutions to minimize the impact of a 'coverage gap'
Find the least expensive Medicare Prescription Drug plan
Understand your options when switching Part D plans
Liberty Medicare represents many well-known Medicare Prescription Drug providers in Delaware, Illinois, Maryland, New Jersey, New York, Ohio, Pennsylvania, and Virginia.  Learn more about all the benefits of working with Liberty Medicare.
If you are looking for Part D coverage, let us help. To view real quotes from Medicare Prescription Drug providers, please fill out our Medicare Prescription Drug Quote form. You also may give us a call at 877-657-7477, and you will be connected to a licensed agent/broker.