What are Medicare Advantage plans (Part C plans)?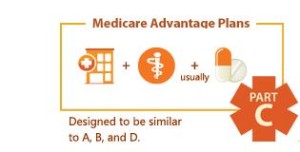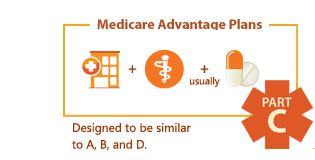 Instead of enrolling in Original Medicare (Part A and Part B), you may decide to join in a Medicare Advantage Plan, also known as Part C plan.
Medicare Advantage plans are offered by private insurance companies and must be approved by Medicare. Part C Plans are available in all fifty states. They are not Fee-for-Service plans, such as Original Medicare. Instead, Medicare pays a fixed amount every month to insurance companies for the enrolled members regardless of whether or not members used the services.
Who is eligible for Medicare Advantage Plans?
You are eligible for Medicare Advantage plan if:
You have both Part A and Part B
You live in the service area of the plan
You don't have End-Stage Renal Disease (ESRD)
Medicare Advantage Plan Benefits
Medicare Advantage plans are obliged to enroll anyone who is eligible. The same Part C benefits are offered to all members, regardless of age or health status. Consequently, pre-existing health conditions cannot be taken into account and enrollment cannot be denied, or the premium cannot be increased, because of health conditions.
Part C Plans cover all services that Original Medicare covers (Part A and Part B), except hospice care. Original Medicare covers hospice care even if you are in the Medicare Advantage plan.
Why Enroll in a Part C Plan?
Part C plans benefits often include extra coverage, such as:
Vision
Hearing
Dental
Health and wellness programs
Part C plans can come as Medical only (MA) or may include Prescription Drug Coverage (MAPD).
There are multiple types of Medicare Advantage Plans available:
HMO plans
PPO plans
PFFS plans
Medical Savings Accounts (MSA) plans
Special Needs (SNP) plans
For details, see Types of Medicare Advantage Plans: How are they Compared?
All Medicare Advantage Plans offer a maximum out-of-pocket yearly limit.
Rules for Medicare Advantage Services
Medicare Advantage plans have different rules for how you are able to receive services. For example, whether you need a referral to see a specialist, or if you have to engage with doctors, facilities, or suppliers that belong to the plan. Medical emergencies are an exception because no referrals are necessary, and services are available anywhere in the U.S.
You are still a part of the Medicare system. If your Medicare Advantage insurance company fails, you are guaranteed the acceptance back into Original Medicare.
How Much does the Part C Plans Cost?
Each Part C plan typically charges a monthly premium in addition to the Part B premium (although, some plans actually pay the Part B premium). There are additional Medicare Advantage costs for Prescription Drug Coverage (if applicable), and for extra coverage (if applicable). The total cost may be higher or lower than you'll pay under Original Medicare.
Each Part C plan can charge different out-of-pocket expenses. You usually pay copayments for each visit or service. The plan may charge you a yearly deductible or any additional deductibles.
Additional Medicare Advantage Resources
Medicare Advantage Enrollment
How to Compare Original Medicare with Medicare Advantage
Choosing a Medicare Advantage Plan – Questions to Ask
Medicare Advantage Plans for people with Medicare and Medicaid (Dual-eligible)
Let Liberty Medicare Help you Choose
Liberty Medicare is here to help you every step of the way while you select and enroll in the best and most suitable Medicare Advantage Insurance Plan for you.
All of our services are entirely free to you. We'll help you compare the key attributes of the Medicare Advantage Plans within your area including:
Standard Benefits
Associated Cost
Doctor Access and Network Limitations
Extra Benefits
Prescription Drug Coverage
Quality of Plan
Liberty Medicare represents many well-known Medicare Advantage providers in Delaware, Illinois, Maryland, New Jersey, New York, Ohio, Pennsylvania, and Virginia. Learn more about all the benefits of working with Liberty Medicare.
If you are looking for Medicare Advantage, please let us help. To see accurate quotes from Medicare Advantage providers, we invite you to fill out our Medicare Advantage Quote form. You also may give us a call at 877-657-7477, and you will be connected to a licensed agent/broker.