Medicare Part A – Hospital Insurance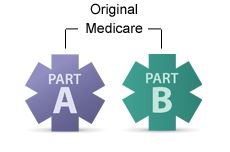 UPDATED Oct. 1, 2022.  Medicare Part A is the Hospital Insurance portion of Original Medicare. Original Medicare allows you to use any doctor, specialist, or hospital that accepts Medicare. You do not need a referral. You are paying a separate amount for each service, also called fee for service.
Who is eligible for Medicare Part A?

What are Part's A (Hospital Insurance) benefits?
Inpatient hospital care such as critical access hospitals, inpatient rehabilitation facilities, and long-term care hospitals.
Skilled nursing facility care
Inpatient care in a skilled nursing facility, however, this doesn't include custodial or long-term care.
Hospice care services
Home health care services
What is Medicare Part A premium?
Most people age 65 or older don't have to pay a monthly payment (referred to as a premium) for Part A because they, or their spouse, paid Medicare taxes while they were working 40 or more quarters of Medicare-covered employment.
People under age 65 who are disabled and received disability benefits under Social Security or the Railroad Retirement Board for 24 months, as well as dialysis or kidney transplant patients, do not have to pay a Part A monthly premium.
Individuals having 30-39 quarters of Medicare-covered employment will pay $278.00, while individuals having less than 30 quarters of Medicare-covered employment will pay $506.00 per month.
How much is deductible?
$1,600.00 (per benefit period)
First 3 pints of blood needed in a calendar year
How much is coinsurance?
$400.00 per day for days 61-90 of each benefit period
$800.00 per each of Lifetime Reserved Days (up to 60 days over a lifetime) after day 90 of each benefit period
How much is skilled nursing insurance?
$200.00 per day for days 21-100 of each benefit period
All costs for each day after day 100
When and how may I enroll in Part A?
When and How to Enroll in Medicare
US Government Sources
Let Liberty Medicare Help You
Use Medicare Supplement (Medigap) to protect yourself against charges that Part A does not cover. It includes multiple 'gaps' (deductibles, coinsurances), which can add up very quickly.
For free assistance in choosing the Medicare Plan that is best for you, contact our Agency. Alternatively, give us a call at 877-657-7477, and you will be connected to a licensed agent/broker.