Standardized Medicare Supplement Plans
There are 10 Standardized Medicare Supplement Plans. Each plan has a designated letter (Plan A, Plan B, etc.) along with a specific set of basic and extra benefits. Standardized in this case means that any plan bought from one insurance company is identical to the same plan purchased from any other insurance company. In particular, Standardized Medicare Supplement Plans have common standards in:
Medigap Benefits: All insurance companies have the same benefits for any specific plan
Claim Processing: Claims are processed electronically by all companies
Claims Decisions: All claim decisions are made by Medicare, not by the Medigap insurance company
Doctor's Network: Any doctor accepting Medicare will accept your Medigap plan
Standardized Medicare Supplement Plans – Available Plans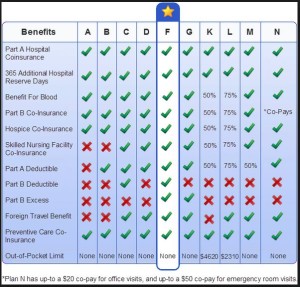 Here is the partial list of Standardized Medicare Supplement Plans. It includes the basic plan (Plan A) and other often used plans:
Do you need help choosing the right plan for you? Find an easy, side-by-side comparison by visiting How to Compare Medicare Supplement Plans.
Let Liberty Medicare Help You
Liberty Medicare is here to help you with comparing, selecting, and enrolling in the best and most suitable Medicare Supplement Plan for you. All of our services are absolutely free!
Liberty Medicare represents many well-known Medicare Supplement providers in Delaware, Illinois, Maryland, New Jersey, New York, Ohio, Pennsylvania, and Virginia.  Learn more about all the benefits of working with Liberty Medicare.
If you are looking for Medicare Supplement coverage, we would love to help. To view real time quotes from Medigap plan providers, please fill out our Medicare Supplement Quote form or give us a call at 877-657-7477.