Delaware Prescription Assistance Program (DPAP): Help with Medicare Part D in DE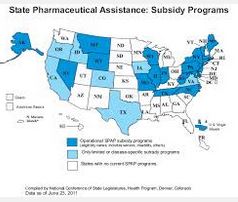 Delaware has Pharmaceutical Assistance Program known as Delaware Prescription Assistance Program helping with Medicare Part D. It provides low-cost prescription drugs to qualified Delaware residents having Medicare. It is  coupled with Medicare Part D.
Delaware DPAP (Delaware Prescription Assistance Program)
– Age 65 or older, or 18 or older receiving Social Security Disability benefits; and
– A Delaware resident; and
– Your income is at or below 200% of the Federal Poverty Level (FPL), or your prescription costs exceed 40% of your annual income; and
– For unmarried or widowed Delaware residents in 2017, they must have annual income of less than $24,120 or monthly income less than $2,010.   For married couples or two-person households, the annual income limit in 2017 is $32,480 or less than $2,706 per month; and
– If you are eligible for Medicare, you must enroll in a Medicare Part D Prescription Drug Plan (and in Social Security Extra Help Program if you are eligible) within 90 days from the date your DPAP benefits begin.
– The Delaware Prescription Assistance Program will provide each eligible individual with up to $3000 per year toward medically necessary prescription drugs. The program does not pay for diabetic drugs or supplies for Medicare recipients
– Clients must make a co-payment of 25% of the cost of the prescription, or a minimum of $5. The co-pay is collected by the dispensing pharmacy. The pharmacy submits a claim to DPAP and is reimbursed directly.
For more details of the Delaware Prescription Assistance program, please visit Help with DPAP, or call 1-800-996-9969.
– There is no annual fee or application fee.