What is the cost of Obamacare? Naturally, providing insurance for the many uninsured citizens, and many  other new benefits will come at a hefty price tag. Will the revenue generated by Obamacare match its price? And where will the revenue come from? Read below.
The Cost of Obamacare: Expenses
Table 1 shows the price of Obamacare. (All tables below are taken from the ObamaCare Survival Guide). Almost 85% of the cost come from Medicaid Expansion and Health Insurance Exchanges.
Table 1.  The Cost of Obamacare (2010-2019, Billions of $)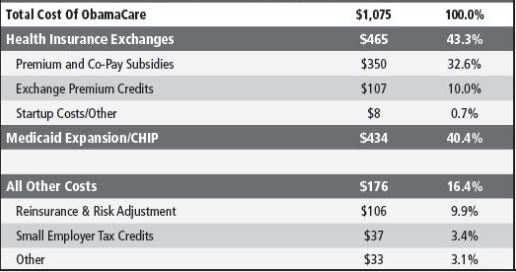 The Obamacare Revenue
Table 2 shows revenue generated by Obamacare. The largest source of funding primarily comes from two sources: Medicare Spending Cuts and New Taxes and Fees.
Table 2.  Revenue Generated by Obamacare (2010-2019, Billions of $)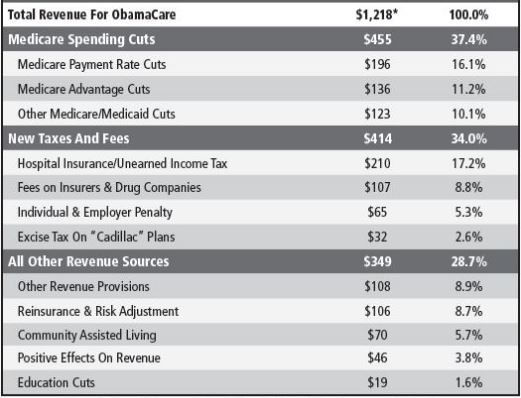 Medicare Spending Cuts
Most Medicare Spending Cuts (see Table 3) comes from the following
Medicare Payment Rate Cuts to providers such as hospitals, skilled nursing facilities and home health agencies
Cuts to Medicare Advantage Plans. Medicare Advantage Plans are an alternative to Original Medicare offered by private insurance companies. When it was found that private insurance companies do not spend enough of the funds which the government allocated to them for direct medical expenses (i.e. Low medical loss ratio), a decision was made to reallocate some of Medicare Advantage money to the Obamacare program. The news is not all bad. The recently introduced CMS 5 Star Rating system, which provides an overall plan summary score, will reward the best Medicare Advantage plans and punish the worst.
Table 3.  Funding Obamacare from Medicare Spending Cuts (2010-2019)

One piece of good news for Medicare recipients is the closing of the "donut hole". Starting in 2011, people reaching the donut hole are responsible for only 50% of brand-name drugs because of the 50% drug company discount. In the years 2013 through 2020, additional government subsidies will be available; gradually reducing the drug price to 25% of its full price by the year 2020.
Table 4.  Closing the Donut Hole

New Taxes and Fees
The following new or increased taxes and fees will be introduced:
Medicare hospital insurance tax will be increased for individuals earning more than $200K (families earning more than $250K) from 1.45% to 2.35%. The increase will take place in 2013.
New Medicare investment income tax equal to 3.8% will be introduced for individuals earning more than $200K (families earning more than $250K). The increase will take place in 2013.
In 2014 new fees will be introduced in the pharmaceutical and health insurance industries
There will be a tax penalty increase from 10 to 20 percent for non-allowable purchases using Health Savings Accounts (HSAs) and Flexible Spending Accounts (FSAs). Employee tax-free contribution to FSA will be limited to $2,500 per year.
Starting in 2012, a new 2.3% tax on Sale of Medical Devices took effect.
After 2013, the threshold for using Income Tax Deduction on Medical Expenses will be increased from 7.5% to 10% of income
Starting in 2018, there will be a new excise tax on "Cadillac" health care plans. Individuals that have a plan above $10,200 in value and families that have a plan above $27,500 in value will pay 40% tax.
Uninsured Patients and Disproportionate Share Hospital (DSH) Payments
There is one very important consideration. Hospitals accrue up to $49 billion in unpaid hospital bills from uninsured patients every year. The government pays hospitals around $40 billion per year to cover the care provided to uninsured patients who couldn't, or didn't, pay their bill (DSH payments).  For ten years, DSH expenses were $400 billion – almost 40% of the total cost of Obamacare (see Table 1). Without Obamacare there will be no end to DSH payments!
Let Liberty Medicare help you to get coverage through the Health Insurance Marketplace
Liberty Medicare is here to help you learn about Marketplaces and assist with eligibility determination for enrollment in a Qualified Health Plan (QHP) and for insurance affordability programs, which include Medicaid, CHIP, premium tax credit, and cost-sharing reductions. We will help you to compare plans, and enroll in coverage. All of our services are offered to you at no cost.
Liberty Medicare represents many well-known Health Insurance Marketplace providers in Delaware, Illinois, Maryland, New Jersey, Ohio, Pennsylvania, and Virginia.  Learn more about all of the benefits of working with Liberty Medicare.
If you are considering buying insurance in the Health Insurance Marketplace, let us guide you. To see real quotes from insurance providers visit Federal or State Marketplace, fill out our Individual Health Quote form, or give us a call at 877-657-7477.