Ohio Best Rx Program: Help with Medicare Part D in OH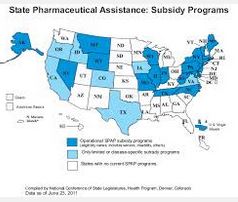 Ohio Best Rx is a prescription drug discount card program designed to lower the cost of prescriptions for all Ohio residents. The goal of Best Rx is to improve access to needed medications at a substantial discount and through a wide network of participating pharmacies.
Ohio does not have State Pharmaceutical Assistance Programs (SPAPs). Ohio Best Rx is not a qualified SPAP; payments do not count toward Medicare Part D True Out-Of-Pocket Costs (TrOOP).
Ohio Best Rx (Prescription Drug Discount Program)
– State residents over the age of 60 are automatically enrolled regardless of income.
– State residents under the age of 60 cannot have any insurance coverage to be eligible for the program.  In order to be eligible under the age of 60 a state residents must meet the an income requirement which requires them to make equal to or less than 300% of federal poverty guidelines, which equal $35,010 for an individual and $47,190 for a family of two and $71,550 for a family of four.  There is no enrollment fee.
– Overall savings average 40% across brand and generic medications combined
– Ohio's Best Rx card can be used at over 2,300 participating pharmacies in Ohio and in bordering counties in surrounding states.
For more details of the available Ohio Best Rx program, please visit Ohio Best Rx Website.