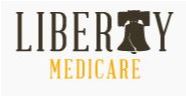 Medicare Open Enrollment Period and Marketplace Enrollment Period are behind us. But Medicare season is still actually quite active with Medicare Supplement (you may enroll in a Medicare Supplement during the entire year), dual-eligible, and multiple other kinds of Special Enrollment Periods (SEP).
This year was quite successful for Liberty Medicare and would like to thank our clients and all visitors to our website who may make a decision to become one day our clients. We are working with Senior Health Insurance Products as well as with Individual and Family Insurance Plans.
We are licensed to do business in 8 states: PA, NJ, NY, DE, IL, OH, DE, MD, and VA. Learn more about all advantages working with Liberty Medicare.
We wish you and your families happy and healthy holidays and look forward to your visits and inputs in 2019.
Please give us your feedback!
What do you think about Happy Holidays from Liberty Medicare? Write your comments.
Contact Us
For help finding the best Medicare or Individual Health Plan for you, please contact Liberty Medicare or call us at 877-657-7477.