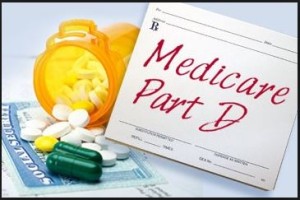 Medicare Part D Plan is used either as a stand-alone plan (Original Medicare with or without Medicare Supplement also known as Medigap) or as a part of Medicare Advantage with Prescription Drugs (MAPD). There are multiple Medicare Part D Plans based on the Standard Benefit Plan. The Standard Benefit Plan is the prescription drug plan offering minimum allowable benefits.
Highlights of Medicare Part D – 2023
There are four coverage phases (stages) in the Medicare Part D Plan, also known as the Medicare Prescription Drug Plan or PDP. The PDP stages parameters will be changed in 2023. The updated numbers are provided below. For your convenience, the 2022 numbers are also provided.
1. Yearly Deductible
You pay the first $505 drug costs before the plan starts to pay ($480 in 2022).
2. Initial Coverage
For each covered drug you pay a copayment/coinsurance defined by the plan, and the plan pays its share. The typical coinsurance is 25%, which means you pay 25% of the drug costs; the insurance company pays the rest. The initial coverage continues until the total drug costs (total of what you've paid and what the insurance company paid) reach $4,660 ($4,430 in 2022). You pay 25% of costs between $505 and $4,660 (between $480 and $4,430 in 2022).
3. Coverage Gap
Once the total costs of prescriptions paid by you and your plan have reached $4,660 ($4,430 in 2022), you will pay ALL drug costs until you've spent $7,400 true out-of-pocket costs (TrOOP) ($7,050 in 2022). This does not include monthly premiums (you must continue to pay them) but does include yearly deductible and coinsurance/copayments.
In 2022, during the Gap period, you'll pay for 25.0% of brand name drug undiscounted costs (25.0% in 2022) and 25% of generic drug costs (25% in 2022). Nevertheless, you can count the full price of the prescription towards the amount you are required to spend to qualify for catastrophic coverage.
4. Catastrophic Coverage
Once you've spent $7,400 out-of-pocket during the year for PDP ($7,050 in 2022), the coverage gap ends, and catastrophic coverage begins. You will pay the greater of either a small 5% coinsurance (5% in 2022) or a small copayment of $4.15 for generic drugs ($3.95 in 2022) and $10.35 for brand name drugs ($9.85 in 2022) for each drug until the end of the calendar year.
Note. The dollar amounts above represent the MAXIMUM of allowed. Some plans may have numbers below the maximum.
Medicare Part D Enrollment
Read Medicare Enrollment Periods for Medicare Part D.
US Government Sources
Please give us your feedback!
What do you think about What is Medicare Part D for 2023? Write your comments.
Contact Us
For help finding the best Medicare or Individual Health Plan for you, please contact Liberty Medicare or call us at 877-657-7477.