Finally, the Federal Health Insurance Marketplace (Federal Exchange) seems to be working.  But should you always use the Federal Exchange?
What are useful tips applying for Health Coverage on Federal Exchange?  Read below.
Useful Tips Applying for Health Coverage on Federal Exchange (Health Marketplace)
1. You may submit application for Individual & Family Coverage online, by phone, via mail or in person. Applying for Health Coverage on Federal Exchange is the most convenient way, as long as the website is functional.
2. Where you apply depends on the state where you live. Some states develop their own exchanges (state exchange), other use federally run exchange (www.healthcare.gov). Check your state.
3. Apply online if you qualify for the government subsidies – you may use subsidies ONLY if you are applying through exchanges. (To check whether you are qualified, use Subsidy Calculator). Otherwise, apply  directly through insurance vendor. As long as you don't qualify for subsidies, applying directly has the following advantages:
You may find more plan choices by applying directly than applying through the Exchange – not all vendor's plans are on Exchange
Vendor's plans that are on exchange will be identical to the plans you may buy directly, in the terms of benefits and premiums.
4. If you applied for coverage with a paper application or over the phone, you need to find your application online entering your Application ID number. If you talked to someone at the Marketplace Call Center, they may have given you this number while helping you complete your application. If you got an eligibility notice in the mail, the Application ID is at the top of the notice.
5. If possible, always use professional expertise of an agent or broker like Liberty Medicare. They will assist you with eligibility determination, help you to compare plans and enroll in coverage. And all of their services are offered to you at no cost.
6. To provide agent's information who is helping you, on the "Help Applying for Coverage" screen enter the following agent's data (see Fig. 1)
First and Last Name
FFM User ID – ID given to an agent who is certified to help Obamacare users
NPN, stands for National Producer Number. Every agent has it.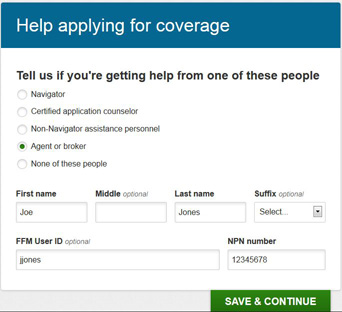 Fig. 1
7. Because another person is helping you complete the application, the system needs to make sure that only people who have your permission are viewing the application. Enter a security response, such as "In what city or town was your first job?" or "What was your childhood nickname?".  Choose only information that you'll know (see Fig. 2)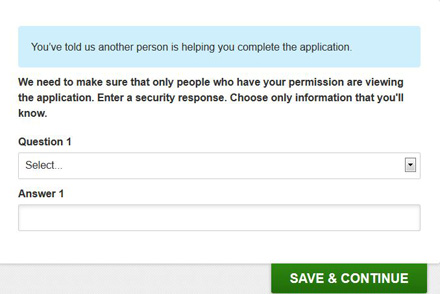 Fig. 2
Please give us your feedback!
What do you think about Useful Tips Applying for Health Coverage on Federal Exchange? Write your comments.
Contact Us
For help finding the best Medicare or Individual Health Plan for you, please contact Liberty Medicare or call us at 877-657-7477.