Individual Marketplace Enrollment Periods – 2019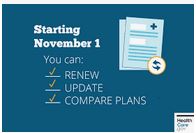 Individuals will be able to enroll in a Qualified Health Plan (QHP) through the Health Insurance Marketplace ONLY at the following Individual Marketplace Enrollment Periods: Annual Open Enrollment Period and Special Enrollment Periods.
All Marketplace plans provide coverage based on a calendar year. Even if you signed up in the middle of the year, your coverage would continue only through December.
Article Contents
Contact Marketplace before Annual Open Enrollment Period
Special Enrollment Periods (SEPs)
Marketplace Enrollment Periods – Annual Open Enrollment Period
The annual open enrollment period for the year 2019 will begin November 1, 2018, and will run through December 15, 2018.  The marketplace will provide advance written notice to all enrollees during the fall of 2018 to inform them on the upcoming open enrollment period.
Applications completed and received by the Federally-facilitated Marketplace from November 1 to December 15, 2018, will be effective on January 1, 2019.  There are no opportunities to make an Open Enrollment plan selection after December 15, 2018.
Contact Marketplace before Annual Open Enrollment Period
During the Open Enrollment period, current enrollees should contact the Marketplace and update their eligibility information to ensure they receive the accurate amount of financial assistance and either select the same QHP (if available) or select a new plan. Enrollees who proactively update their application information will receive an updated eligibility determination. In order for this updated eligibility determination to be sent to the issuer for the enrollee's selected QHP, the enrollee MUST confirm plan selection in either the same plan or a new plan.
Consumers who DO NOT contact the Marketplace to update their eligibility information and select a plan by the deadline to select coverage effective January 1 of the following year are automatically re-enrolled into coverage for the following year.
Marketplace Enrollment Periods – Special Enrollment Periods (SEPs)
Qualified individuals and enrollees may be allowed a Special Enrollment Period (SEP) under certain circumstances. During this period they can enroll in QHPs or change enrollment from one QHP to another. Each special enrollment period will be 60 days from the date of the triggering event in the individual market and 30 days in the small group market.
Events that permit a SEP include, but are not limited to:
Gaining or becoming dependent, including:

Getting married
Having a baby
Adopting a child or placing a child for adoption or foster care

Gaining status as a citizen, national, or lawfully present individual
Loss of minimum essential coverage (e.g., loss of Medicaid eligibility, termination of a QHP), except if enrollment is terminated based on failure to pay premiums
Loss of affordable employer-sponsored coverage
A determination that an individual is newly eligible or ineligible for premium tax credits or a change in eligibility for cost-sharing reductions
A permanent move to an area where different QHPs are available
US Government Source
Let Liberty Medicare help you to get coverage during Individual Marketplace Enrollment Periods
Liberty Medicare is here to help you learn about Marketplaces and assist with eligibility determination for enrollment in a Qualified Health Plan (QHP) and for insurance affordability programs, which include Medicaid, CHIP, premium tax credit, and cost-sharing reductions. We will help you to compare plans and enroll in coverage. All of our services are offered to you at no cost.
Liberty Medicare represents many well-known Health Insurance Marketplace providers in New Jersey and Pennsylvania. Learn more about all of the benefits of working with Liberty Medicare.
If you are considering buying insurance in the Health Insurance Marketplace, let us guide you. To see real quotes from insurance providers visit Federal or State Marketplace, fill out our Individual Health Quote form or give us a call at 877-657-7477.