Making Changes After Enrollment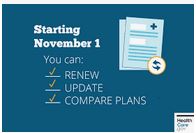 After enrolling in the plan you may make two kinds of changes after enrollment: Changes before the effective date and Changes during the year.
Making Changes After Enrollment: Changes Before the Effective Date
If a qualified individual makes a QHP selection but later selects a new QHP before the deadline for making a plan selection with the same coverage effective date, without making any application changes, the Marketplace will automatically cancel the initial QHP selection as part of the transmission of updated enrollment information to QHP issuers.
For example, if a qualified individual chooses a QHP on November 7, her coverage can become effective on January 1. She would have until December 15 to change her QHP selection for January 1 coverage.
Making Changes After Enrollment: Changes During the Year
The Marketplace will redetermine a consumer's eligibility for QHP coverage and insurance affordability programs if a consumer contacts the Marketplace and updates his or her application information during the coverage year (e.g., change in household income or size). Consumers should report any changes to their application information within 30 days to receive an updated eligibility determination.
There are two ways an individual can report changes to his or her application:
Online. The individual can log in to his or her HealthCare.gov account. Select application, then select "Report a life change" from the menu on the left.
By phone. The individual can contact the Marketplace Call Center at 1-800-318-2596 (TTY: 1-855-889-4325).
US Government Sources
How to change, update, or cancel your Marketplace plan
Reporting income & household changes after you've enrolled
Let Liberty Medicare help you to get coverage during Individual Marketplace Enrollment Periods
Liberty Medicare is here to help you learn about Marketplaces and assist with eligibility determination for enrollment in a Qualified Health Plan (QHP) and for insurance affordability programs, which include Medicaid, CHIP, premium tax credit, and cost-sharing reductions. We will help you to compare plans and enroll in coverage. All of our services are offered to you at no cost.
Liberty Medicare represents many well-known Health Insurance Marketplace providers in New Jersey and Pennsylvania. Learn more about all of the benefits of working with Liberty Medicare.
If you are considering buying insurance in the Health Insurance Marketplace, let us guide you. To see real quotes from insurance providers visit Federal or State Marketplace, fill out our Individual Health Quote form or give us a call at 877-657-7477.