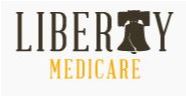 Liberty Medicare recently gave an interview to Bloomberg Businessweek on the subject of Affordable Care Act (ACA) and Short-Term Health Plans. Click here to read the Businessweek article.
Please give us your feedback!
What do you think about Bloomberg Businessweek interviews Liberty Medicare? Write your comments.
Contact Us
For help finding the best Medicare or Individual Health Plan for you, please contact Liberty Medicare or call us at 877-657-7477.