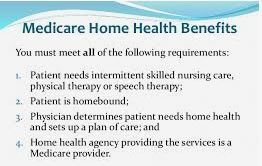 There are substantial changes in Medicare home care coverage for Medicare skilled nursing care and rehabilitation therapy for people with chronic conditions and disabilities.  The recent settlement (Jimmo vs. Sebelius) removed the "improvement standard" from Medicare requiring an improvement of the patient's medical condition.  Instead, the guidelines have been changed to allow Medicare to pay for services to "maintain the patient's current condition or prevent or slow further deterioration", rather than for services meeting the improvement standard.
Why changes in Medicare skilled nursing care are important for home care?
The change is quite significant.  The previously used "improvement standard" left out many chronically ill elderly patients hoping just to maintain, rather than to improve, their condition.  Many health agencies and skilled nursing facilities have interpreted the "improvement standard" to mean that Medicare will not pay for rehabilitation unless the patient will get better.  The new standard will place emphasis on maintaining rather than improving. Many people who were denied skilled care before the settlement will be allowed to reapply.
The cost for expanding such coverage may be substantial. But in the long term it may also save some money.  Many patients leaving the hospital without proper follow up care at home return back to the hospital within one month of admission. The new rule will change this.  It will also reduce strain on the patient's family.
No changes for Basic Care or Long-Term care
The changes in Medicare coverage do not include basic care (i.e. bathing or cooking).  It also does not affect long-term care benefits in any way. Medicare did not pay for long-term nursing home care or other long-term care services before the settlement, and the new rules will not change this policy.
US Government Reading
Please give us your feedback!
What do you think about Changes in Medicare home care coverage for Medicare skilled nursing care and rehabilitation therapy?  Write your comments.
Contact Us
For help finding the best Medicare or Individual Health Plan for you, please contact Liberty Medicare or call us at 877-657-7477.