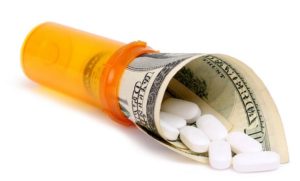 The latest issue of Consumer Reports (September 2013) includes a useful article on cutting drug costs. Here are the major tips on how to save money and still get effective and safe treatment. For more details, review the original article – Surprising ways to cut your drug costs.
Try an over-the-counter (OTC) drugs for some health problems
Skip OTCs drugs for other problems
Don't automatically use your insurance

Many commonly used generic medications can be purchased less expensively in major chain drug stores

Take advantage of the new health care law (Obamacare)

Because young adults may now remain of their parents' health plans until they turn 26, their drug costs will be reduced
Cheaper drugs for Medicare Part D
Free preventive care
No more annual or lifetime limits on your coverage

Be aware of formulary changes
Ask for the lowest available price
Use your insurer's preferred pharmacy or mail-order service
Use step therapy

Try less-expensive treatments at first to see whether they help before turning to more expensive options

Take fewer drugs
Please give us your feedback!
What do you think about Consumer Report tips on cutting drug costs?   Write your comments.
Contact Us
For help finding the best Medicare or Individual Health Plan for you, please contact Liberty Medicare or call us at 877-657-7477.