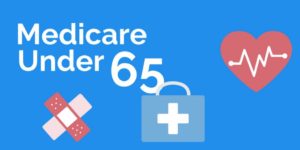 Most people get Medicare when they are turning 65, but there is also an option getting Medicare Under 65.  In 1999 Medicare covered some 5 million people who are under 65 and disabled, a number that is expected to grow to more than 9 million by 2020. You will be qualified for Medicare if you are receiving Social Security Disability Insurance benefits (SSDI) for more than 24 months. But because you must wait five months before receiving disability benefits, you are actually must be disabled for 29 months before being entitled to Medicare. There is an exception from the 2-year waiting period. If you have Amyotrophic Lateral Sclerosis (ALS), then Medicare automatically begins the first month your disability starts.
Notice also, that Social Security, not Medicare, determines whether you qualify for SSDI checks.
Medicare Under 65 – Parts A and B
You'll be automatically enrolled after 24 months "waiting period" by getting both parts of Original Medicare: Part A and Part B.
If you have Medicare Part B, the premium will be automatically deducted from your Social Security check. Part B is optional, and you may turn it down. You may consider  refusing Part B ONLY if you already have group coverage from your employer or your spouse's employer. Otherwise, you'll have a premium penalty when you sign up for Part B later, and you may have a gap in your coverage.
Medicare Under 65 – Medicare Supplement, Medicare Advantage and Part D
If you have decided to keep Medicare Part B, you now need to decide what Medicare plan type is the best for you. In other words, you need to compare Original Medicare with Medicare Advantage. Depending on where you live, you may choose one of the following types of Medicare plans:
Original Medicare and Part D
Original Medicare, Medicare Supplement, and Part D
Medicare Advantage
Private insurance companies sell Medicare Supplement, Medicare Advantage, and Part D.
You may consider enrolling in a Medicare Advantage Plan (Part C), which provides services covered by Parts A, and B, as well as the Part D (Prescription Drug coverage).
Alternatively, you may enroll in a Medicare Supplement Plan (Medigap), which covers Original Medicare out-of-pocket costs, or gaps such as:
Deductibles
Coinsurance/ copayments
Excess charges
Medigap plans are generally for people over the age of 65 and according to federal law, insurance companies can refuse to sell Medigap policies to people under 65. Additionally, insurance companies can also charge higher Medigap premiums compared to Medigap premiums for people over age 65.
When you have Medicare under 65, eligibility for Medicare Supplement depends on which state you reside in.
In some states, when you have Medicare under 65, you may not be allowed to buy a Medigap policy.
In other states, insurance companies are required to sell you a policy, even if you have Medicare under 65. These states entitle people under 65 for a Limited Medigap Open Enrollment Period, which occurs within 6 months after you've been enrolled in Part B. During this time you may purchase any available Medigap plan without Medical Underwriting. However, the list of available plans for people under 65 may be limited.
When you turn age 65, you'll be entitled to the Medigap Open Enrollment Period. It will take place independently whether you've been entitled to Limited Medigap Open Enrollment Period or not.
Read more on Getting Medicare Under 65 in Medicare for Disabled Under 65.
US Government Sources
Please give us your feedback!
What do you think about Getting Medicare Under 65? Write your comments.
Contact Us
For help finding the best Medicare or Individual Health Plan for you, please contact Liberty Medicare or call us at 877-657-7477.