Medicare covers most but NOT ALL health services, and does not usually pay 100 percent of the cost even for covered services. Even if Medicare covers a service, you generally have to pay your deductible, coinsurance, and copayment.
Health services not covered by Medicare
Health services not covered by Medicare include (but are not limited) the following: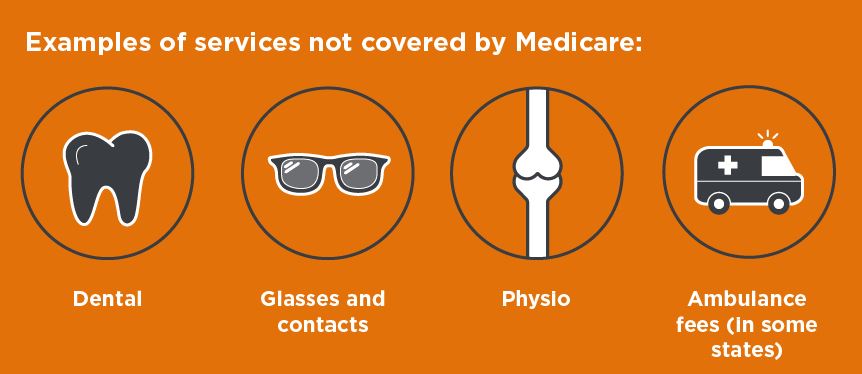 Personal Care or Long-Term Care (also known as Custodial Care), such as nursing home care (unless it is done in a skilled nursing facility), and help with bathing, toileting, grooming, and dressing (unless it is homebound skilled nursing care or physical therapy).
Home Maker Services, such as shopping, meal preparation, cleaning and laundry
Alternative Medicine
Acupuncture
Cosmetic Surgery, unless it is needed due to illness or injury
Most of the care received outside of the United States
Dental Care. Routine dental care health services not covered by Medicare. That means cleanings, fillings, tooth extraction, as well as dentures. The exception is only made for the treatment that is considered medical rather than dental, and would be covered if the same work would be covered by a physician.
Eye Exams. Medicare will not cover routine eye exams for eyeglasses and contact lenses. It also does not cover eyeglasses (except when following cataract surgery) and contact lenses. It covers the preventive and diagnostic services for glaucoma and macular degeneration.
Hearing Aids / Exams. Medicare does not cover routine exams; nor will it cover exams for prescribing or fitting hearing aids.
Foot Care. Routine foot care and preventive care are not covered by Medicare, but the treatment of foot illness is covered
US Government Sources
What's not covered by Part A & Part B?
Please give us your feedback!
What do you think about Health Services not covered by Medicare? Write your comments.
Contact Us
For help finding the best Medicare or Individual Health Plan for you, please contact Liberty Medicare or call us at 877-657-7477.