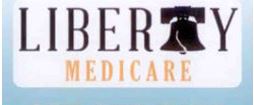 UPDATED 11/24/2018   It is quite important to provide basic of Medicare for people whose native language is different from English. For the convenience of our many readers, Liberty Medicare provides  information on Medicare in the Russian language in the form of Medicare Library.
Library of Medicare in Russian
We've published recently in local newspapers several short but informative articles on different aspects of Medicare in Russian. Readers found them very useful, and many of them became our clients. Therefore, we've decided to publish them on the Liberty Medicare website.
There are five articles in the Library of Medicare (in Russian):
В Библиотеке Medicare пять статей:
Please give us your feedback!
What do you think about The Library of Medicare in Russian (for our Russian Readers)? Write your comments.
Contact Us
Liberty Medicare is a full service, licensed independent insurance agency specializing in various Medicare plans for people above age 65 or on disability, and Individual Health Insurance plans for people under the age of 65. Our services are offered within the following eight states: Delaware, Illinois, Maryland, New Jersey, New York, Ohio, Pennsylvania, and Virginia. Liberty Medicare is located in the suburbs of Philadelphia, PA.
For help finding the best for YOU Medicare Plan, please contact Liberty Medicare or call us at 877-657-7477.