Dual Eligible Special Needs Plans – 2023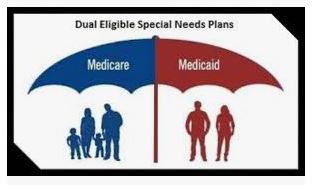 UPDATED Oct 1, 2022. From several categories of Medicare Advantage Special Needs Plans (SNP), one is particularly significant: Dual Eligible Special Needs Plans for people having Medicare and Medicaid (dual-eligible).
Dual Eligible Special Needs plans have all advantages of Medicare Advantage plans and Medicaid. Usually, dual-eligible beneficiaries do not have any out-of-pocket expenses for services covered by Medicare and Medicaid. However, this coverage does not provide care coordination and is far from being comprehensive. Dual Eligible Plans provide much better integration in healthcare services for people having Medicare and Medicaid. They also include multiple extra benefits. As long as you are dual-eligible, you may change your Medicare Advantage plan (including Special Needs Plan) once a quarter.
Dual Eligible Special Needs Plans: Extra Benefits
Here are typical extra benefits for the Dual Eligible Plans:
Acupuncture
$0 copay for each supplemental acupuncture visit, limited to 20 visits per year
Dental
Oral exams, cleaning, fluoride treatment, and x-rays – 1-2 times yearly with $0 copay
$3,500 plan coverage for supplemental comprehensive dental benefits yearly
Vision
$0 copay for 1 supplemental routine eye exam every year
Up to 1 pair of eyeglasses (lenses and frames) or 1 pair of contact yearly ($300 limit)
Hearing
$0 copay for 1 routine hearing exam every year
Hearing aids every three years ($1,500 coverage limit)
Transportation
Unlimited number of one-way trips per year with $0 copay
Over-the-Counter pharmacy (OTC)
Food and Produce
$300 quarterly allowance (in combination with OTC). Eligibility is based on chronic health conditions.
Podiatry
$0 for each visit. Limited to one visit every three months.
Fitness Center Memberships
$0 copay for Annual fitness center membership to selected gym clubs (such as SilverSneakers)
US Government Sources
How Can Liberty Medicare Help?
Liberty Medicare represents many well-known Medicare Advantage providers doing business in Delaware, Florida, Illinois, Maryland, New Jersey, New York, Ohio, Pennsylvania, and Virginia. This list includes multiple carriers for Dual Eligible Plans for people with Medicare and Medicaid (dual-eligible).
Learn more about all the benefits of working with Liberty Medicare.
All of our services are offered to you at no cost. To observe real quotes from Medicare Advantage providers, please fill out our Medicare Advantage Quote form. You also may give us a call at 877-657-7477, and you will be connected to a licensed agent/broker.