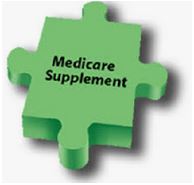 In this post we'll present the latest Medicare Supplement Statistics.
Medicare Supplement Plans (Medigap Plans) are sold by private insurance companies licensed in your state. The prime purpose of the Medicare Supplement is to protect seniors from high out-of-pocket expenses not covered by Medicare Parts A and B of Original Medicare. These expenses can include deductibles, copayments/coinsurances, and excess charges. Medicare Supplement benefits are paid after Medicare has paid its share of the bill.
Medicare Supplement plans are standardized, meaning that any plan purchased from one insurance company is identical to the same plan bought from any other insurance company. Standardization was introduced in July 1992 with ten uniform packages (Plans A through J). Over the years, plans were revised. The latest revision took place in June 2010. Some plans (such as Plan J) were retired, and the new co-sharing Plans M and N have been introduced. There are ten standardized Medigap plans today (or 11 if you count the Medigap Plan F high-deductible version separately).
Two recently published reports, Trends in Medigap Coverage and Enrollment,2012 (from AHIP) and Mark Farrah Associates Medicare Supplement Healthcare Business Strategy Report, provide interesting Medicare Supplement statistics as of December 2012. Here are the key results from these reports.
Overall statistics
1. Total number of Medigap policies (standardized and pre-standardized)
as of December 2012 – 10.2 million
as of December 2011 – 9.9 million
2. Number of Policies, Standardized and Pre-standardized, as of December 2012
standardized plans – 9,579,056 (94%)
pre-standardized plans – 572,884 (6%)
3. Factors contributing to Medicare Supplement market growth:
Overall Medicare growth (baby boomers!)
Medicare Advantage funding reductions
Reduction in retiree health benefits
Medicare Supplement statistics by Plan Type
1. Medicare Supplement Enrollment and Market Share of Standardized plans by Plan Type (December 2012)
Plan C: 1,211,857 (12.7%)
Plan D: 259,792 ( 2.7%)
Plan F: 5,057,890 (52.8%)
Plan G: 452,782 ( 4.7%)
Plan J: 680,916 ( 7.1%)
Plan N: 358,765 ( 3.7%)
2. Percent Change 2011-2012 of Medigap Enrollment by Plan Type
Plan C: – 7%
Plan D: -10%
Plan F: 10%
Plan G: 27%
Plan J: – 9%
Plan N: 35%
7% of people are still enrolled in the no longer offered and obsolete Plan J. It is surprising that the percentage has not decreased by more than 9%.
The fastest growing plans and Plans N and G. (The plan M is not included here: it has largest percent change of all plans, but the total number of people enrolled in the plan is too small). Plan N provides a lower premium alternative to Medigap plan F, with a reasonable level of cost-sharing (up to $20 for a doctor's visit, $50 for an emergency room). Plan G is almost identical to Plan F, but without coverage for Part B deductible. Depending on how much lower Plan G premium is compared with Plan F, it may be the preferred alternative.
Medicare Supplement Statistics: Premiums and Claims (Billions)
2012: Premiums = $22.258, Claims = $17.405
2011: Premiums = $21.424, Claims = $17.130
2010: Premiums = $20.253, Claims = $16.210
The aggregate loss ratio (claims as a percent of earned premiums) is around 80%.
Medicare Supplement Statistics: Companies Market Share (2012)
UnitedHealthcare: 32%
Mutual of Omaha: 10%
Aetna: 6% (after a purchase of Genworth Financial companies)
Other companies have a smaller overall market share but provide a strong presence in selected US States. They include:
AFLAC
Central States Indemnity (CSI)
CIGNA
New Era / Philadelphia American
Stonebridge
190 carriers reported Medigap enrollment in 2012, down from 193 in 2011. Fewer carriers offer Medigap plans: only 129 carriers wrote NEW policies in the last three years.
Please give us your feedback!
What do you think about Medicare Supplement Statistics – December 2012? Write your comments.
Contact Us
For help finding the best Medicare or Individual Health Plan for you, please contact Liberty Medicare or call us at 877-657-7477.