It is not an easy time for the pharmacy business. Many pharmacies face increased competition, and to survive, they need to reinvent themselves. The result is they are now offering new and diverse services, such as immunizations and medication counseling. Below you will find useful information on Africa travel vaccinations based on personal experience.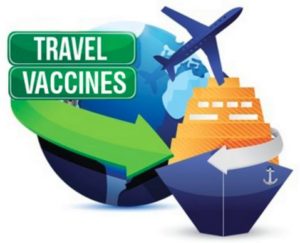 Africa travel vaccinations – Standard way
Traveling to Africa often means being exposed to health risks. These risks demand some preparation, including immunizations, medications and other measures. For example, standardly recommended immunizations for a Tanzania trip include typhoid, tetanus, hepatitis A, polio, and malaria prophylactics.  If you travel through Kenya, the yellow fever vaccination is also required.
Up until recently, the only way to get those vaccinations was to contact Travel Health Centers of major hospitals in your area, such as Lankenau Hospital or the Hospital University of Pennsylvania in my area.  The initial consultation will cost you about $100, and the cost of each vaccination is in a range of $80 – $130; depending on the type of vaccine. The most frustrating fact is that all Travel Health Centers are self-contained and do not accept any type of insurance. In other words, even if you have insurance that covers travel vaccinations (and many do!), you will not be able to use it.
Africa travel vaccinations – Alternative way
But there is another less expensive way to get your travel vaccinations – have them done at pharmacies. Your local pharmacy might offer a wide variety of vaccinations, such as chicken pox, hepatitis A and B, the human papillomavirus (HPV), pertussis, pneumonia, polio, and shingles. Such travel vaccinations as meningitis, typhoid, and yellow fever are also often included. Look for places like Giant, Target, and Walgreens – all of these offer travel vaccination services.
The benefits of using pharmacies are particularly significant when your insurance covers immunizations. By getting your vaccinations at the pharmacy, you may use all the benefits of your insurance coverage. Claims are usually submitted by pharmacists on behalf of customers. For people who are on Medicare, this may be a particularly attractive proposition. All Medicare Part D plans must include commercially available vaccines on their formularies. Your Part D plan will pay for the vaccination itself and for the doctor or other health care provider to give you a vaccine.
Be aware that your primary doctor probably will recommend that you go to one of hospitals Health Travel Centers for travel vaccinations – the standard way. The alternative approach is too new to be widely known. But it is worth to explore this option. The savings may be very substantial. The cost of my travel vaccinations was supposed to be about $600; by using the Giant Pharmacy Travel Health immunization services, I've paid just a fraction of that amount.
US Government Sources
Please give us your feedback!
What do you think about Get Travel Vaccinations using Pharmacy Services?  Write your comments.
Contact Us
For help finding the best Medicare or Individual Health Plan for you, please contact Liberty Medicare or call us at 877-657-7477.