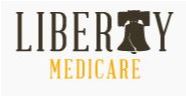 We are excited to share our new Liberty Medicare website and blog with you. We have designed Liberty Medicare website to be a one-stop source of information for your Medicare and Individual Health questions and needs. Now it is up to you, our visitors, to decide whether or not we have succeeded in our endeavor.
Who are we?
Liberty Medicare is NOT a new health insurance agency. We started our operation several years ago under the name of Medicare-PA-NJ-DE. Medicare-PA-NJ-DE specialized in Medicare insurance for Pennsylvania, New Jersey, and Delaware and provided a full range of Medicare insurance options (Medicare Supplement, Medicare Advantage, and Medicare Prescription Drug Plan) for the above states.
Later, we extended our operation to five more states and added support for Individual Health plans and other plans such as Dental and Supplemental Insurance. We even provided Visitors Health Insurance for people visiting the US. Obviously, the old name was not adequate anymore. The new name we chose, Liberty Medicare, does not limit our operations to any particular state. Instead, it highlights our commitment to Medicare and enables us to be active with other health insurance plans as well. Liberty Medicare website reflects our commitment in maintainig several lines of businesses in multiple states
Liberty Medicare is a full-service, licensed, independent insurance agency specializing in various Medicare Plans as well as Individual Health Insurance Plans for people under the age of 65. Our services are offered within the following five states: Delaware, Illinois, New Jersey, Ohio, and Pennsylvania. Liberty Medicare is located in the suburbs of Philadelphia, PA.
Consider our website and blog your resource for selecting and enrolling in the Medicare or Individual Health Insurance Plans that are the BEST FIT FOR YOU. We are always ready to help.
Please contact us with any of your questions, or call us at 877-657-7477. We look forward to hearing from you!