Medicare covers two types of visits. It covers a one-time, initial examination (known as Welcome to Medicare Visit) within the first 12 months you enrolled in Part B. It also includes a yearly appointment, known as Annual Wellness Visit, to discuss your plan of preventive care in the coming year. Annual Wellness Visit cannot be taken in the first year when you are eligible for the Welcome to Medicare Visit.  Both of them are NOT a head-to-toe physical.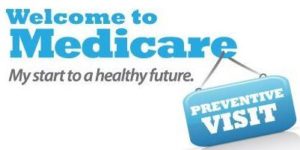 Welcome to Medicare Visit
The visit includes:
Review of medical and social history
Review of potential for depression or other mental health conditions
Review of ability to function safely in the home and community
Check of your height, weight and blood pressure, and body mass index and vision test
Education, counseling and referrals related to risk factors and what the doctor found during the visit
Education, counseling and referrals related to other preventive services covered by Medicare. This includes a written plan created by your

provider

. A checklist is an example of a written plan your doctor may give you.
Discussions about health care advance directives
You pay nothing for the Welcome to Medicare Visit if the doctor or other qualified health care provider accepts Medicare assignment. If your doctor or other health care provider performs additional services during the same visit that are not covered, you may have to pay coinsurance, and the Part B deductible may apply.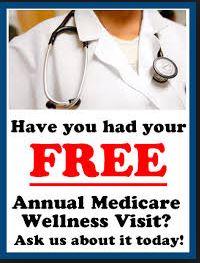 Annual Wellness Visit
During the first Annual Wellness Visit, you and your doctor or health care provider will create a prevention plan based on your needs. In order to do this, your provider will ask you to fill out a questionnaire, called Health Risk Assessment.
Annual Wellness Visits after your first visit may be slightly different. As part of the subsequent wellness visits, your doctor will:
Update the health-risk assessment you completed
Update your medical and family history
Check your weight and blood pressure
Update your list of current medical providers and suppliers
Screen for cognitive issues
Update your written screening schedule from previous wellness visits
Update your list of risk factors and conditions and the care you are receiving or that is recommended
Provide health advice and referrals, to health education or preventive counseling services or programs.
Original Medicare covers the Annual Wellness Visit with no coinsurance or deductible if you see doctors or other health care providers who accept the Medicare approved amount in full.
US Government Sources
Welcome to Medicare Preventive Visit
Please give us your feedback!
What do you think about Welcome to Medicare Visit and Annual Wellness Visit? Write your comments.
Contact Us
For help finding the best Medicare or Individual Health Plan for you, please contact Liberty Medicare or call us at 877-657-7477.