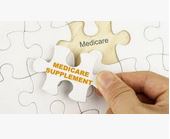 Most people who have Medicare also have some form of supplemental insurance. Only 12 percent of people do not have any supplemental coverage. Medigap plans, also known as Medicare Supplement Plans, is one of the major sources of supplemental insurance for people with Medicare.  And their share is growing. So, why are Medigap plans popular?
Why Medigap plans are popular – Major Selling Points
Original Medicare does not cover the allowable Medicare expenses fully. Part A deductibles and coinsurances, as well as Part B coinsurance (20% of the Medicare-approved amount), are YOUR responsibility. Medicare Advantage Plans have protection in the form of out-of-pocket maximum ($6,700/year) and often use copayments rather than Original Medicare coinsurance (20%). But only Medigap plans cover all Original Medicare gaps (or most of them depending on the Medigap plan): deductibles, copayments/ coinsurances, and excess charges. Medigap plans are sold by private insurance companies licensed in your state. Here are the list Medigaps' benefits that make Medigap plans so attractive.
Medigap plans are the only real way to cover Medicare gaps. Medigap benefits are paid by Medigap insurance after Medicare has paid its share of the bill.
There is no network for Medigap. You may visit any doctor or hospital, and as long as the doctor/hospital is accepting Medicare, they MUST accept a Medigap plan as the secondary coverage.
All Medigap plans are guaranteed renewable, i.e., insurance company cannot cancel your policy as long as you pay the premium.
There is no need to file any claims for Medigap. The claim processing is done through the very efficient Medicare crossover system.
Medigap provides extra benefits that are not a part of Original Medicare, such as foreign travel emergency. Several companies offer additional benefits such as pharmacy savings, vision discount, access to fitness facilities, nurse health line, etc.
Why Medigap plans are popular – Variety of Medigap Plans
Another reason for Medigap plan's popularity is the variety of their plans – anybody may find a plan that fits the best to his/her needs.
There are 10 Standardized Medigap Plans. Each plan has a designated letter (Plan A, Plan B, etc.) and a specific set of basic and extra benefits. Medigap plans rarely change from year to year, and their standardization allows easy comparison between plans.
Standardization also means that any plan bought from one insurance company is identical to the same plan bought from any other insurance company. The main difference is the price, and it may be quite significant.
Here are three categories of Medigap plans:
Comprehensive plans that cover all or most gaps in Original Medicare. For example, Medigap plans F, G, C, and D.
Copayment-based plans that use copayments for doctors and emergency visits. For example, Medigap plan N.
High-Deductible plans where you need to pay a deductible first before the plan starts its coverage. For example, High-deductible Medigap plan F.
US Government Reading
Please give us your feedback!
What do you think about Why are Medigap plans popular? Write your comments.
Contact Us
If you are looking for Medigap coverage, let us guide you. To view real quotes from Medigap plan providers, please fill out our Medicare Supplement Quote form, or give us a call at 877-657-7477.