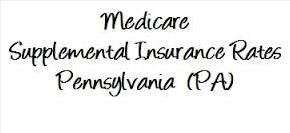 Medicare Supplement Plans (Medigap Plans) serve the purpose of filling gaps in Parts A and B of Original Medicare. All Medicare Supplement plans are standardized and sold by private insurance companies.In this post we'll review the best Medicare Supplement Plans in Pennsylvania.
Article Contents
Standardized Medigap Plans
The Best Medicare Supplement Plans in Pennsylvania – Hidden Gems

Standardized Medigap Plans
There are 10 plans, designated by the letters "A" through "N." Each letter defines a plan's benefits. Plans are standardized, which means any plan from one insurance vendor has benefits identical to the benefits of the same plan from any other vendor. The difference is just a premium; and it may be significantly different from company to company. That is why knowing about Medigap vendors with the lowest premiums may be of great value to our readers.
Medicare Supplement Plan F is the most popular plan. It covers all Original Medicare gaps and is offered by most vendors. You also may find other plans competitive with Plan F, such as Plan C or Plan G, but they are offered by a limited number of Medigap providers. Recently, Medicare Supplement Plan N became quite popular. It has lower premium but requires copayments for visits to doctors and emergency rooms.

The Best Medicare Supplement Plans in Pennsylvania – Hidden Gems
There are about 30 Medigap vendors in the state of Pennsylvania. The list of Liberty Medicare Medigap carriers is more than half of that. We only deal with highly respected companies. Only three of our providers have AM Ratings B+ and B++; the rest have ratings A-, A, and A+.
The world of Medigap providers includes some well-known names, such as Mutual of Omaha, Independence Blue Cross, and Humana. Some of them may have attractive rates in Pennsylvania, others often offer premiums outside of the reasonable price range. Recently, some other well-known companies, such as Transamerica Premier Life, Aetna Health and Life and Cigna Medicare Supplement, reduced their original Medigap premiums for many plans and now are very competitive in Pennsylvania.
But most companies are smaller and less known, and they often provide real Medicare Supplement plans bargains. Have you heard of the companies Thrivent Financial (rating A++) and Manhattan Life (rating B+)? They provide one of the best Medicare Supplement Rates in many parts of Pennsylvania. And, as we've mentioned above, the premium is the only real difference in the world of standardized Medigap plans. And what about companies such as KSKJ Life and Greek Catholic Union? They are very competitive in specific geographical areas for selected Medigap plan types.
Whether you live in Pennsylvania (Philadelphia, Pittsburgh, Northeastern, Central, or Southeastern Pennsylvania), please contact us if you need help selecting and enrolling in Medicare Supplement Plans. Use our very extensive list of Medigap carriers, and find a reputable vendor with the most affordable rate.
For more information, read Compare Medicare Supplement Plans and How to Choose a Medicare Supplement Plan and Vendor.
For specific Medicare Supplement regulations in Pennsylvania, read Pennsylvania Medigap Plans.
Pennsylvania Insurance Department
Let Liberty Medicare Help You
Liberty Medicare is here to help you in all stages of comparing, selecting and enrolling in the best and most suitable Medicare Supplement Plan.
All our services are entirely free to you. We'll help you:
Find all plans available to you and compare their benefits
Determine your eligibility (particularly if medical underwriting is required)
Find the least expensive Medicare Supplement plan for your needs
Understand your options when switching plans
Liberty Medicare represents many well-known Medicare Supplement providers in Delaware, Illinois, Maryland, New Jersey, New York, Ohio, Pennsylvania, and Virginia. Learn more about all the benefits of working with Liberty Medicare.
If you are looking for the best Medicare Supplement plan in Pennsylvania, let us help you. To view real quotes from Medigap plan providers, please fill out our Medicare Supplement Quote form, or give us a call at 877-657-7477.