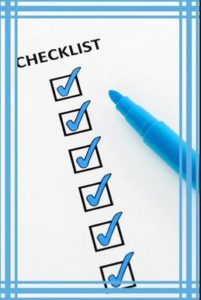 UPDATE Jan. 14, 2019.   Medicare is not a complicated subject as long as you are familiar with Medicare checklist.  These are not strict rules like 'Who is eligible for Medicare?' or 'How do I apply for Medicare?' but rather practical, common sense tips that can help you to avoid errors and save a substantial amount of money.  Therefore, getting as much knowledge as possible about the Medicare checklist is quite essential. Some of them are applicable only when you are turning 65 (or get Medicare because of a disability). Others are available, once you are on Medicare. In any case, here is our Medicare checklist. It will help you to avoid costly Medicare mistakes.
Medicare Checklist
Medicare Checklist – Turning 65
Medicare Checklist – After Medicare Enrollment
Medicare Checklist – Turning 65
Do I need Medicare Drug Coverage?
Do I need to enroll in Medigap plan?

Do I need Medicare Part B?
It depends on whether
you can afford it
you or your spouse are currently working and covered by an employer group plan
you will be ready to enroll in Medigap within six months after getting Part B
For more information refer to Decide if you need Medicare Part B.
There is also an important concern of what will happen with dependents of people moving to Medicare.  Dependents can continue their coverage for 3 years under COBRA, shop for an Individual Health plan, or to enroll in Short-Term Health plan.
Do I need Medicare prescription drug coverage?
Definitely, unless you have Creditable Prescription Drug Coverage. You may find more information in Do you need to enroll in Medicare Part D?
Do I need to enroll in Medigap plan?
You should seriously consider enrolling in a Medigap plan as soon as possible after getting Medicare Part B, particularly if you have serious health problems.  The first six months after you receive Part B is a timeframe known as the Open Enrollment Period (OEP).  During this period the insurance company cannot deny you any insurance policy they sell because there is no medical underwriting allowed during the OEP.  Outside of this period, medical underwriting is allowed. Therefore, the insurance company may reject anyone with a questionable health record.  Read more in Should you enroll in Medigap policy?

Medicare Checklist – After Medicare Enrollment
Original Medicare or Medicare Advantage
How is important the insurance company rating?
How to select a Part D vendor?
Are you entitled to Medicare Assistance?
Original Medicare or Medicare Advantage
This is an important choice you need to make when first enroll in Medicare; as well as every year during the Annual Open Enrollment Period.  Each choice has its pros and cons.  (See Comparing Original Medicare vs. Medicare Advantage).  The overall conclusion is that you should enroll in a Medicare Advantage plan as long as you are healthy and willing to stay within the plan's network.
Otherwise, select the Original Medicare, buy the stand-alone Part D and complement it with the Medigap plan.  The Medigap plan will protect you against high medical expenses in the event of serious illness. Just remember, never drop the existing plan (Medicare Advantage or Medigap plan) before being accepted into the new Medigap plan.  Because of medical underwriting (unless you just turned 65), there is no guarantee that you will be accepted.
How is important the insurance company rating?
It depends.  Medicare Advantage  Plans (MA), Medicare Advantage with Prescription Drug Plans (MAPD), as well as stand-alone Prescription Drug Plans (PDPs) don't have any standardized plans. For these plans insurance company ratings are critical. The major factors in the MA/MAPD selection are an insurance company network, company plan rating, and premium price.  For PDPs, the major factors are annual drug costs, formulary, and company plan rating.
It, however, is not a case for Medigap (Medicare Supplement) plans.  All Medicare Supplement plans are standardized.  It means that:
 Benefits for any particular plan are the same for all insurance companies
Claims processing is identical for all companies
All claims decisions are made by Medicare, not by insurance companies
There is no network; any doctor that accepts Medicare will accept you in a Medigap plan
The ONLY difference is the insurance premium – it may be significantly different from one company to another.  A.M. Best Company publishes the financial strength ratings on Medicare Supplement insurance companies, but it is NOT much of a factor in company selection.
How to select Prescription Drug Plan (PDP) insurance company?
The selection of the insurance company covering your prescription drugs (Part D) is too important to be ignored.  Saving money by making the right PDP choice is very essential part of your Medicare savings. There are four guidelines for the Part D selection process described in How to save money on Medicare Prescription Drug Plans (PDPs). They are:
Select a plan based on YOUR list of prescription drugs rather than on recommendations from your friends or family members.
Always make your selection based on  lowest Estimated Annual Drug Costs rather than on lowest monthly premium.
If possible, try to use generic rather than brand name medications.
Always check whether you are eligible for prescription drugs Assistance Programs
What about Extra Benefits?
Extra Coverage includes benefits such as vision, hearing, dental, and health/wellness programs.  They usually are not covered by Medicare.  Medicare Advantage plans very often include them as a part of their plan, or offer them at additional cost.  Recently, some Medicare Supplement insurance vendors also started to add limited extra coverage (such as vision) to their offerings.
Addition of extra coverage makes the plan more appealing.  But don't let it sway you from the proper selection of Medicare plan based on the above guidance.
Are you entitled to Medicare Assistance?
There are several Medicare Assistance programs that provide Help with Medical and Drug Costs.  They include both Federal and State programs:
Medicare Savings Programs – State programs that help to pay for Medicare premiums and, in some cases, for Parts A and B deductibles, coinsurance and copayments.
Extra Help / Low-Income Subsidy (LIS) – Federal programs that pay for the cost of Medicare Prescription Drug Coverage.
State Pharmaceutical Assistance Programs (SPAPs) – State programs that help to pay for prescription drugs based on financial need, age, or medical condition. See Plans by State.
Surprisingly, many seniors are either not aware of the existence of those programs, or wrongly assume that they are ineligible.  Actually, there are a variety of plans that offer benefits based on your income and resources. Therefore, always apply to help programs – you'll be surprised how often you'll find you are eligible. Enrolling in one of these programs gives you an additional advantage: you will be allowed to change MAPD/ PDP plans multiple times during the year.
What about long-term care?
Medicare does not pay for long-term nursing home care or other long-term care services.  However, because of the recent changes in Medicare coverage for at-home skilled nursing care and rehabilitation therapy, Medicare will pay for services to maintain the patient's current condition to prevent or slow down further health deterioration.  Previously, Medicare did not pay for skilled nursing care and rehabilitation unless the patient's improvement was proven.
Agent Role
Always work with a full service, licensed independent insurance agency specializing in Medicare plans.  Liberty Medicare is one of those agencies.
The advantages of working with independent agencies include:
Independent agents are NOT employed by any specific insurance company, but rather represent a wide variety of carriers. It allows them to work for clients by comparing numerous plans and selecting the most suitable plan for their needs.
Such agencies normally represent only well established and nationally known providers. They provide real-time quotes, as well as options for online enrollment.
Independent agencies will guide you through the process and provide support for your needs after enrollment (such as monitoring policy changes on an ongoing basis and assisting you at renewal periods).
Because of their knowledge of medical underwriting guidelines for different companies, the independent agencies will advise you not to apply to insurance companies that might reject you. It is quite important because once the rejection is recorded, other insurance companies are far more likely to reject you as well.
Finally, there is no cost to you for independent agency services.  And there are no monetarily advantages to enroll on your own. Your premium will be EXACTLY the same no matter how you apply; whether directly or through the agency.
Reading Sources
Please give us your feedback!
What do you think about How to avoid costly Medicare mistakes? Medicare Checklist.  Write your comments.
Contact Us
For help finding the best Medicare or Individual Health Plan for you, please contact Liberty Medicare or call us at 877-657-7477.